I once knew a lady who lost close to 20 kgs in the span of 8 months with nothing but exercise, good nutrition and sheer determination. No she didn't work out 3 times a day, every day, and lived on a liquid diet. She exercised 3 times a week, ate wholesome home cooked solid foods, and she never took a single pill. And because I had the privilege to train her a few times, I knew without a doubt how she was so successful in achieving her health goals. It was because she was so darn determined.
I've been asked many times, "How come I don't lose any weight, Karen? I started exercising, I work out every day, I'm doing way more than I used to do, yet I don't see any change. Why?". And I often struggle to give an answer, not because I don't know why, but because I do and I don't think they're going to like it. It's because they don't have the determination and drive. Many people hit a realisation at some point that they'd better do something about their health if they want to lead a good long life. Often, these are people who up until this point never gave a hoot about their health. Much like other sins in life, they know that being sedentary is not good for their hearts and bodies but they really can't be bothered to do much about it. Until this turning point. And then all of a sudden, exercising is like that bitter pill they are forced to swallow just so they can get fitter and healthier. And they sign up at the nearest gym, or pick up a sport, or join a fitness group, which are all great first steps to changing their lives! Good on you, mate.
But magic doesn't happen from just putting in the hours. Very often they push as far as they are comfortable with and then they slow down or they stop. Sure they're there for a full hour, but how much of that hour do they really push themselves? How many seconds out of 60 seconds did they pause for a break while the timer went on? How many times did they set a limit for themselves, a limit that they had set for themselves 3 months ago, back when they're not as fit as they are now?
Magic comes from the heart and the mind. The difference between the lady who succeeded and one who didn't was in the way she trained. When she started her work out session, she had her mind completely focused on the work out. She was there to sweat. She was there to burn. She was there to work her butt off and she did not plan on stopping short. She pushed an extra push up even when arms were shivering. She crunched that extra sit up even when she was barely lifting her head off the floor. She ran long and hard and she never gave up. You could see the fire in her eyes. That's what inspires me about my job – how some people can be so determined that nothing gets in their way.
Back when I was in uni, we used to perform fitness tests on each other in the lab. And almost every student in my class was an athlete or a sports person. We were all trained individuals, who are familiar with the idea of pushing your own limits further every time. During the tests, because we usually hook up gas masks to our mouths, we'd point to a number on a scale to express our "perceived exertion". And the problem with athletes was that our perceived exertion was at a much higher level of intensity than a non athlete. Elite athletes are good not only because they're amazingly strong physically, but also mentally.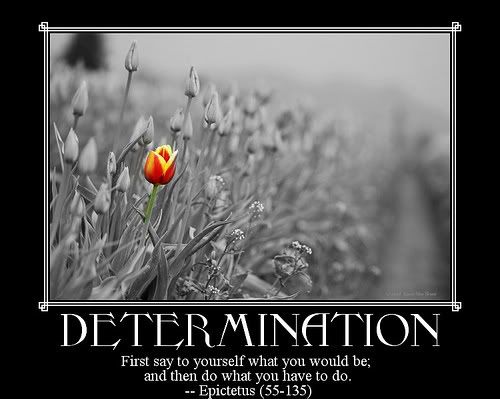 I guess what I'm trying to say is that the reason why some of us do not see the results we hope to see is the fact that we do not have the strength in our minds. We give up too easily in every set we do, or we stop short, or we slow down. Yes you make it a point to carry out your work outs, but is your mind determined to outdo your muscles, or has it already decided to take a back seat before you even begin?